Guide to Custom Home Theater Systems
You know what you should add to your very own home? Instead of driving all the way out to a movie theater why not just install your very own custom home theater system in your own home.
Just install a DVD player and you're ready to go with your own movie. Family time is what matters most.
Construct a custom home theater in any part of the house. Whether it's the living room or a spare room in the house make a comfortable movie viewing room with comfortable seats and heat up that buttery microwave popcorn.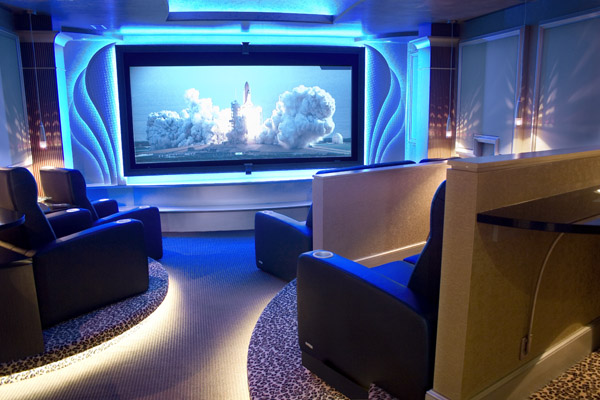 Depending on what your budget is here is a look at what additions you could add into your very own custom home theater system. You've come to the right article because you need to know what items you'll need.
---
Custom Home Theaters and Their History
Are you asking yourself what a custom home theater is? Don't be embarrassed.
Technology changes day after day bringing the world advancements to make our lives easier, or more comfortable I should say.
A home theater is your very own theater right in your home. It's an area to sit back on the couch and watch a movie. You can actually create a full movie theater watching experience adding a front projector instead of watching the film on a small TV screen.
---
Your Home Theater Includes
The Projector Screen: Your screen is where the action is. How big the screen and what resolution with it deliver?
Surround Sound Speaker System: The speakers, along with the screen are one of the most important keys to include. Either buy 1 or 9 speakers included in the deal
Front and Center Channel Speakers: It doesn't matter where you place your speakers.
Home Theater Receivers: The receivers are how you work home theater system. One press of a button and you'll be enjoying the best sound to your film of choice
Blu-Ray and Home Media Servers: Blu-Ray combines the best resolution and behind the scenes action that you can find
Installations: How will you install your home theater? On your own or will you have someone to aid you in the process? Professionals can help you select the equipment that you need
Calibrations: Properly set up all the needed equipment around the room from projectors to speakers.
---
Can I Afford a Custom Home Theater System?
That's more of a question for yourself. How does your own financial situation look at the moment? How much do you want to include in this setup? A whole TV or the sound system that goes along with it?
Not every home theater system is the same. They'll come in different designs and with a variation of projects you could install. Don't pay attention to all the products thrown at you when you're researching. Will you need surround speakers? Do you need a Blu-Ray or just a regular DVD player?
See what I mean what goes into financial planning? Really think about your plans before adding a home theater system.
---
Ways You Can Design Your Home Theater System
Don't listen to all the advice given to you in this article. You are free to design your home theater or media room in any design you want. Make it shout who you are. Give it a theme. Paint the walls, add in some additional comfy chairs, or a snack room. How can anyone go to the movies without any snacks or beverages?
Afterward, you can choose the carpeting, curtains, and any unique designs that will go up along the walls. You're in charge of any of the wreckage that happens during your movie experience. Keep the area clean and treat it like the other rooms in your house.
However, make the plans for the furniture your second plan. The media is always first.
Doing some Research…
Again, pay attention to the cost. Home movie theater systems are expensive. What does the design of your room look like? Is it big or small? Researching, testing, and also making measurements of all the layers of the room helps to establish where you should put your equipment.
Model each wall to see where the TV fits best. Along with seating arrangements, too. Do you want your guests facing the windows or away from the windows? Speaking of which, how dark do you want your room to be?
Sound Quality Over Resolution
Having the best picture quality really makes the movie watching and experience you'll never forget. However, sound plays an important role. Since the invention of sound in movies, technology has advanced over time for audiences to listen to the dialogue and the action conveyed onscreen.
You can also install your own sound equipment and audio devices to better improve your sound quality.
---
What's the Best Part About a Custom Home Theater System?
You can experience the resolution of your movie with a better picture than a movie screen theater. You'll be able to get a lot out from your movie watching experience.
The instant you install a home theater you'll never want to go out to movie theater again. You can easily save money.
Don't Set it Up Alone
If you have no clue to what you're doing then chances are that your home theater system is going to turn out as a complete wreck. You're only going to break your back if you even try to lift that gigantic TV onto the wall on your own.
Advice from professionals will get you the right advice for the setup of the room but they can also advise you financially, too.
---
Home Theater Systems are Great for the Whole Family
Spending time with family is the most precious time anyone can spend together. Catch up with your family on stories from your week. Then toss in a movie and enjoy the evening.
Constructing a room in the house as your very own home theater will soon become your favorite room in the house. Yes, the home theater is that popular.
---
Install Your Custom Home Theater System Today
Research through your financial plans now and see if you are able to install your very own custom home theater system. It is worth it for the time spent with family and to experience the best quality in movies. Never install alone. Together, set up the plans for your installation and get to work now.