What's need to consider to Create a Game/Media Room
Want to know what'll give your house an even better entertainment? Instead of driving all the way to a Dave and Busters or a Chuck-E-Cheese, create your very own media and game room in your own house.
Game rooms are the best! It doesn't matter what games it includes. There are varying game rooms. To answer that lingering question on why you should have a game room in your house here's the answer… They're fun!
Make that spare room in the house a game room for either yourself, your kids, or your friends for when they came over on a weekend where there is nothing else to do. Stop dreaming and start plans on that game room. It's better late than never.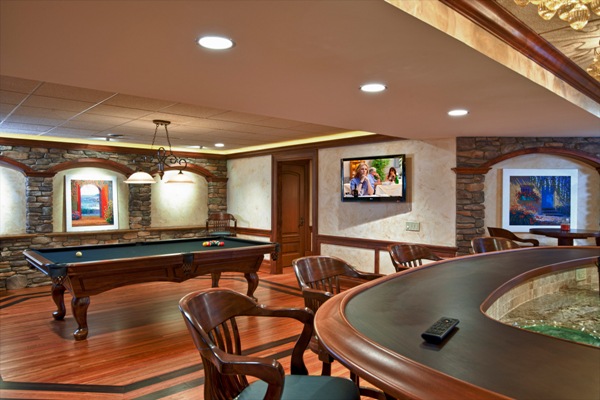 There are over hundreds of setups and games to put inside your game room. If you're having trouble and your brain is actually in a storm from an overload of ideas, take a read through this article.
---
What is Your Theme?
You have to have a theme! What is your passion? Decorate the rec room is a style that fits you. What sort of furniture fits the rec room. A sofa, a chair?
What Can I put in My Game Room?
Pool Table
Music
Watching movies
Computer
Books
Foosball
Boardgames
---
Time to Decorate
Decorate your media/game room from top to bottom. Pick the best paint color and go wild. Don't stop there. To go along with your theme pick out some decorations to hang on the walls or over the ceiling.
You could even set up your own pieces of art. Remember, it's your media room. As the owner if your house you're allowed to do what you want. Make the experience and time for all to enjoy.
---
Creating a Room for a Theatre Experience
Instead of going to the movie theater set up your own flat screen against the walls. Then dim the lights and boom it's like you're sitting in the movie theatre. Only better.
With the ability to pause the film if you ever have to get up and go to the bathroom, it makes your movie watching experience even better.
You should also become a subscriber to Netflix. Netflix provides various films. And they're free!
---
Can I Add a Game Room Financially?
That's up to you. Whether or not you have the expenses to add your very own media/game room is all to you. Owning a game room will most likely show up on that electrical bill each month. Aside from that, having a media/game room is the ultimate experience.
---
Spend Some Needed Family Time
Did you barely spend enough time with your family before you built a game room into your home? You'll find that game rooms increase some needed family time. Not just family, but friends, too.
Plan a night of fun. Or take advantage of a rainy day and spend the day playing games and watching movies.
---
Makes a Quiet Work Space
In the chance that you may be working from home, your game/media room can also become a remarkable office space. Sit down in the comfy chairs or at your very own desk and make it a productive day.
Having your very own game room also offers time for you to breathe and chill. Our days and weeks are filled with stress. Take some time to lie down and relax.
---
Create a Trip to the Gym
Don't have the needed time to go to the gym during the day? Why not make your media/game room space an exercise room. Buy an exercise bike, a treadmill, or just a mat to stretch out on. Exercising takes the stress off your day no matter what.
---
Why You Should Also Create a Game/Media Room is Offices
During the week, people go off to work for a long day of meetings, staring at their computer, and having stress pile up on their desks. Game/Media rooms with a unique style have been becoming more trendier in office buildings over the years.
All employees need a break for some time during the day in order to recharge. Why not build a break room with games. Employees can have a break for lunch and play around with some of the games. It's hard adulting, especially amidst your first real job.
Building an in-office game room is better for mental health. It makes coming to work something to look forward to. As the boss of your establishment always thinks about your employees and their needs.
---
What is the Benefit of Having a Media/Game Room?
There is a lot to benefit from a media/game room. For one it is the ultimate family time. It's a great time to spend with family either watching movies, playing games, or just hanging out together.
You'll also benefit some needed 'me time'. Yes, living together in one house means that you should have some time spent to yourself to recharge. Having a game room is a fantastic space to just relax and watch whatever you want on TV.
All houses need a game room to escape to after having a bad day. Take the time to relax, play some pool, watch a movie, or spend time in your thoughts.
---
Start Planning Today!
Start your plans today to build a game room in your home. Make it your own theme and put whatever games you want into it. It's your time to relax in your own world. Leave behind your phones and forget about the real world for a while. Family time is meant to be spent together catching up with your lives.
Remember, look over your financial plan to see if you can afford a game room. It's not fun when you open up an empty wallet after already constructing one.
Once your game room is set up and ready to throw a party. Toss in a movie, play a game, or just use the space for some nice relaxing time.
Everyone is a kid at heart.